Student Guide to Online Library Resources
As a student, transitioning to distance learning can be frustrating. The Touro College Libraries are here to help by connecting you to all the information and services you need! Even if our physical locations are closed, our staff will be available to assist you via phone, email, and online chat. Wherever you are located, we are here to help!
Learn more about the Libraries in our orientation video: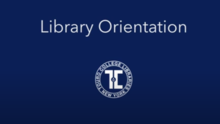 Please remember to check your official Touro email regularly and sign-in to TouroOne. Communication updates from Touro College and University System regarding the coronavirus are available at https://www.touro.edu/updates/coronavirus/. For questions about online classes, or IT issues, send an email to help@touro.edu or use the TouroOne portal.
Find the image below on our Homepage or click the image for immediate library help

Get immediate library help
If you have a question about library hours, services, or beginning your research, try our Frequently Asked Questions or Research Guides first. Our For Students Guide is a good start.
Library staff are also available via chat during the times when the Libraries are open (9am-9pm).
To get help from our staff
Here are some other ways to get in touch. Please understand that we will make every effort to respond to your requests quickly and thoroughly.
If you've got a quick question, tweet us! Somebody will get back to you as soon as possible (we monitor this service Monday-Thursday between 9am and 5:30pm and on Friday between 9am and 2pm).
We will respond to your research and resource questions within one business day.
View our site directory for a full list of locations and contact information. Please call your home branch or the Midtown Library during operating hours.
For technical support, please submit a request through this portal or send an email to help@touro.edu.
Researching and Studying Remotely
These resources are available to Touro College students and faculty working from anywhere in the world. To access online resources, simply sign in through the TouroOne portal and select the blue Libraries button, or click on a resource from the Libraries website and sign in with your TouroOne credentials when prompted.
Try searching databases related to your subject area, or select "Multidisciplinary" from the drop-down menu to begin a wider search.
eBooks, Ejournals, eMagazines, Streaming Videos
We have a massive collection of online resources. Use the "Quick Search" bar or the "Find" tab, both on our Homepage.
These are also called Libguides and are created by experts. Start with our For Students Guide, or select by subject.
This guide gives some practical advice for using Zoom videochat. As always, make sure you ask your professor about how they want you to use Zoom during class sessions.
Other local resources
New York City's three public library systems, while physically closed indefinitely, are able to support research help and access to digital resources. All New York State residents, students attending school in New York State, and individuals who work or pay property taxes in New York State can receive a library card and access for free. Please contact your local branch for more information, or visit the webpages below.
New York Public Library (Manhattan, the Bronx, and Staten Island)
*NYPL has expanded remote access to excellent databases/resources previously available only in-person at a branch. See more information here: https://www.nypl.org/about/remote-research-resources*
Please remind yourself and others to be mindful of our assumptions regarding the coronavirus. Someone who appears sick or looks a certain way does not necessarily have the coronavirus, and while distancing yourself from those who appear sick is correct, discriminating against them is wrong.
Finally beware of fake news surrounding the coronavirus. Our guide on fake news can help you spot misleading or false information. Get information from trusted sources such as the Centers for Disease Control and Prevention.
This guide was developed with materials from the Harvard Library, CUNY Graduate Center Teaching & Learning Center, CUNY Graduate Center Library, and Mapping Access.

 This guide is published with a Creative Commons Attribution-NonCommercial-ShareAlike 4.0 International license.