Frequently Asked Questions
About the Libraries
Getting Help
Reserve
Finding articles
Finding and checking out books
eBooks
Other Library Services
About the Libraries
What are the locations and hours of the libraries?
You can find this information by following the Locations and Hours link at the top of any page on our website.
Who may use the libraries?
Eligible borrowers include current students, faculty, and staff of Touro University with a valid barcoded Touro ID or library card.
Alumni may also use all database resources in the library, and selected resources available via the Alumni Portal. More information is available in our Policies document.
How do I get a Touro ID?
Please consult the site director of your campus for more information.
How are late fees calculated?
There is a charge of $0.10 per day, per item for overdue circulating items. The maximum total late fee for each circulating item is a nonrefundable fee of $20. Late fees for reserve items accrue at a rate of $1 per hour. More information is available in our Policies document.
How many items are in the Libraries' collections?
Touro University Libraries has a collection of over 670,000 items. 
We have over 170 databases on a variety of academic subjects.  
We have a growing collection of over 566,000 eBooks spanning all academic areas; you can browse them on our databases page, or search them in the library catalog. You can access the e-book collection from off-campus with your TouroOne credentials.
Where else can the Touro Libraries be found online?
Aside from the library website, we invite you to connect with us via Instagram, Facebook or Twitter, and to stay up-to-date with the TC Library Blog.
What is your donation policy?
The policy is available here.
Getting Help
How can I learn to use the library?
Get started using the library with the Student Guide handout overview, or visit the For Students LibGuide for more detailed information and instructions.
We also offer a self-paced, non-credit course entitled, ProQuest Research Companion available to all Touro affiliated students, staff and faculty. 
Individual instruction and Library Orientations for class groups are offered by the Libraries. View detailed offerings on our Library Instruction page. 
How can I get research assistance?
Visit in person at any of our the libraries.
Instant message the reference desk via chat, or email a librarian (expect an answer within 24-48 hours).
Speak with a librarian by phone.
Consult LibGuides, online subject guides availble 24/7 that provide you with a single point of access to the best library resources.
How do I access password-protected materials from off-campus?
For the majority of Touro people, your off-campus credentials are the same as those for your TouroOne Portal. Log in with your TouroOne credential from this page.
Who do I contact if I am having technical trouble with the Touro databases offsite?
Use our Technical Support form.
Where can I get help with citation styles?
View our guide to Academic Integrity & Creating Citations for help with citing sources in a variety of styles. 
How do I locate NoodleTools (a bibliographic citation generator) and how do I use it?
It is listed on the Databases page. located here.
For step-by-step instructions, see the NoodleTools tutorial
Reserve
What are reserves?
Reserve items are materials set aside by the library for student use at the request of the professor. Reserve items are kept on the reserve shelves and can be used in the library for 3 hours at a time.
Finding articles
How do I find articles?
Log in with your TouroOne credentials by clicking the "Log in" button on the library home page to access library materials. Use the QuickSearch box to type in your search and limit your results to scholarly journal, newspaper or magazine articles. Or, choose the Databases icon to browse discipline-specific article databases by subject.
Why do some articles only list the citation and abstract, not the full-text?
Some databases include only the citation and abstract for articles, some include full-text for every articles, while others have both. Although finding a great title but then not being able to view the rest of the article immediately is frustrating, databases include those citations so that researchers can be aware of all of the literature that exists on their topic. You can always request access to any article for free. First check article linker (see below) to see if the full-text is in a different database. If the text is not available, you will have to fill out a form to request it from another library, a process known as Interlibrary Loan. To find the form, log into the portal, and from the Library homepage, use the drop down menu under SERVICES and click on the item labeled Request Materials From Another Library (ILL). 
I found an article in a database. How do I get the full-text?
If you see a pdf or html, icon, click on it to view the full-text. If that option is not available, we may still offer access to the full article in a different database. Click on the Article Linker button 
 to check. For further help, watch the following short video. 
If still not found, you can request materials using the Interlibrary Loan Form.
I have the title of an article I need to read. How can I access it?
The easiest way to locate a known article is by using QuickSearch. Search for the article by title. For best result put the exact title in quotation marks. If needed, you can further specify your search using the advanced search option to add author, year, or other information. 
How do I use Google Scholar?
A subset of Google, Google Scholar provides a simple way to broadly search for academic articles. From one place, you can search across many disciplines and sources, and find articles, theses, book chapters, abstracts and even court opinions. 
Since the library is already linked to Google Scholar, if you are on campus, you can easily access many of the results in full-text for free. 
If you are off campus, however, you will have to set the preferences of Google Scholar on your computer to "Touro University-NY" first. Here are the steps to set up Google Scholar. 
Go to Scholar Preferences and type Touro Libraries in the search box. Hit the Find Library button. Check the following boxes and save Preferences.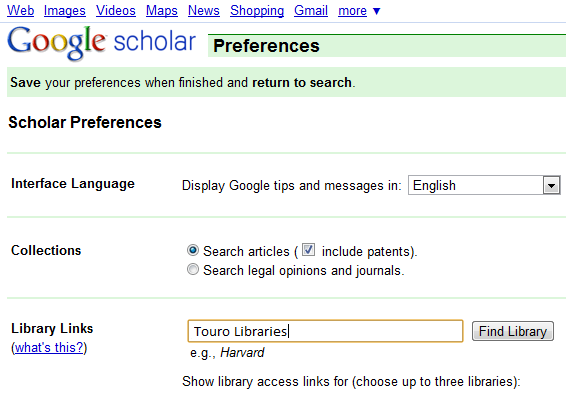 Finding and checking out books
How do I locate a book using the catalog?
Click on the Catalog (Find Books and eBooks) icon. Enter your information and click Go.
The icon, "Modify/Limit search" allows patrons to limit their search to a specific library location or to only eBooks.
How are the books arranged?
See Call Numbers.
How many books can I borrow from the library and for how long?
Check out up to 10 books at a time for a loan period of 2 weeks. Items may continue to be renewed unless another borrower has requested them.
If the book is recalled by the library, it should be returned immediately. The fines for the overdue recalled book will be $1 per day.
Professors may have the book checked out for up to one semester. However, when late, they must also pay the fines.
What if my library does not have the book that I need?
If the book is available at a different Touro campus, you can request that it be sent to your home library. Learn how with this brief video. 
If Touro does not own the book, you may request it through the Interlibrary Loan Service.
How do I renew my books?
On the Library home page, under Services: Renew Books
Or, over the phone, in person at your library, or via chat.
eBooks
Do you offer eBooks?
We have a growing collection of eBooks spanning all academic areas. You can access them by logging into the TouroOne portal, and at the word Find, reveal the dropdown menu and click on eBooks.
How can I read eBooks?
​You can view the full-text of all eBooks online, or you can download Proquest eBooks and EBSCO eBooks to your computer or digital device, such as a tablet, e-reader, or phone. 
Other Library Services
Can I borrow a dictionary for my exam?
Dictionaries may be used in the library, but as reference books, they do not circulate.
Do you have a collection of DVDs and videos?
Students may borrow many, though not all, of Touro Libraries' DVDs/videos for four days duration.  Faculty may borrow DVDs/videos for 2 weeks.  We also have a large collection of online streaming video that can be accessed after logging in.  The databases containing these items can be located by going to Touro Libraries' homepage, revealing the dropdown menu under Find, and clicking on Streaming Videos.
Do you have iPads for circulation?
Yes, we currently loan iPads at the Midtown, Bay Shore and Midwood Libraries.  Please consult our iPad policy for further information.
Do you have copy machines?
Most of our libraries do have copy machines. We suggest, however, that you call your site to make sure we have copy machines available for you. Copies generally cost 10¢ per page.
Can I print from the library computers?
Yes, you can. Touro University uses PaperCut, a print management software, to enable printing in our Libraries and Computer Labs. Printing costs 5 cents a page and is paid for through papercut. Students must add their own funds.